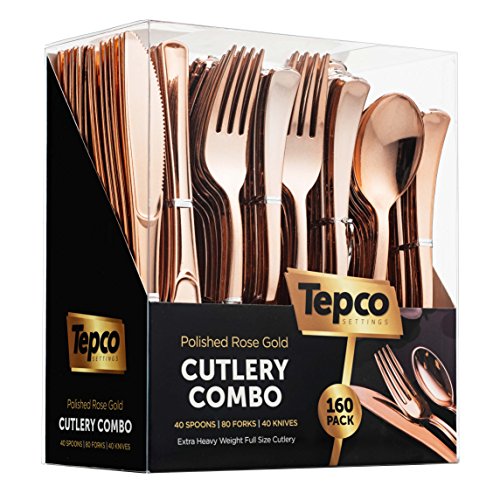 160 Rose Gold Plastic Silverware Set - Rose Gold Flatware Set - Plastic Rose Gold Cutlery Set Disposable - 80 Plastic Forks - 40 Plastic Spoons- 40 Plastic Knives - Heavy Duty for Party Bulk Pack
---
Brand: Tepco
Color: Gold
Features:
ENRICH YOUR MEALS FEELING LIKE A MILLIONAIRE: Lustrous rose gold cutlery set gives you an elegant look that sets you all from business meetings to birthday parties including all your formal and informal events.
JOIN YOUR OWN PARTY WITH HASSLE FREE AFTERMATH : Cleanup is a breeze! This Tepco Settings is a disposable flatware, that will save you time and money getting it cleaned. Enjoy your hosting knowing your free for all afterwards! Free yourself and staff, to handle other important things while maintaining the lavish standards you desire.
ITS QUALITY THAT COUNTS: The heavy duty cutlery set gives you a second option of cleaning and saving it for your next occasion due to its solid and durable construction and prevents you from any breaking or snapping while eating with the highest quality of PLASTIC ROSE GOLD CUTLERY IN THE MARKET!
WHAT'S IN THIS BULK FLATWARE SET??? A bulk disposable flatware set of 160 count, 80 forks, 40 spoons, 40 knives. Subscribe and add to your favorites as your'e guaranteed to love these and come back for more for all your occasions to come!
JUST CLICK ADD TO CART NOW AND START YOUR PARTY!!: Like hosting but can't stand the mess? Well, now you are all covered! Enjoy spending time with your friends and family by simplifying it with TEPCO Setting rose gold plastic silverware solved problem!
Publisher: Tepco
Details: The Rose Gold Plastic Utensil Set you have been looking for is finally here!! This rose gold silverware plastic set will make you happy in every way! Should it be by prepping this beautiful rose gold cutlery set enhancing your table, or the aftermath of simply throwing it away after hosting your event! With this rose gold plastic spoons, rose gold plastic forks, and rose gold cutlery knives you won't wanna go back using real ones again as you won't see any difference! Choose Rose Gold Plastic Silverware as a staple in your house, office, catering, hotel and where not! It won't let you down! Rose gold silverware bulk packed will give you the opportunity to be served for big or small occassions. With this neat packaging it gives you the option of easily preparing or storing it for your next get together. This Plastic Tableware Set is perfectly designed to be used for all, being that it is heavy duty and durable you don't need to worry about getting broken. easier! Rose gold disposable silverware, your first step in making hosting easier!
UPC: 752541962117
EAN: 0752541962117
---
Share this Product