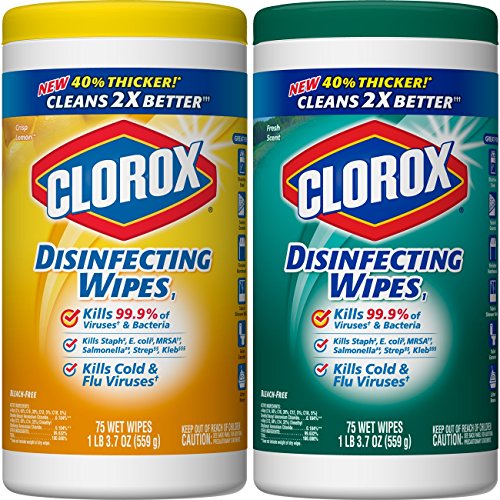 Clorox Disinfecting Antibacterial Wipes Value Pack, Crisp Lemon and Fresh Scent - 75 Count Each (Pack of 2)
---
Brand: Clorox
Features:
ANTIBACTERIAL WIPES: Clean and disinfect with a powerful multipurpose wipe killing 99.9% of bacteria and viruses and remove common allergens around your home
MULTI-SURFACE CLEANER: Now 40% thicker* with 2x the cleaning power*, these wipes breakdown grease, soap scum and grime so you can tackle any surface. *Compared to previous wipes
SCENTED DISINFECTING WIPE: Disinfect and deodorize with the fresh smell of Clorox scented wipes for a bleach-free, all-in-one cleaning alternative
ALL PURPOSE WIPE: Germs and messes occur on more than kitchen counters and bathroom surfaces - safely wipe down toys, remotes, or clean up car spills
VALUE 2 PACK: This bulk wipe pack contains two 75 count canisters of disinfecting wipes in 2 scents featuring 1 Fresh Scent and 1 Crisp Lemon
Publisher: Clorox
Release Date: 2014-04-24
Details: Clorox Disinfecting Wipes can take on bigger and tougher messes with the new and improved thicker wipe with two times the cleaning power compared to a wet paper towel. They are 40% thicker than previous wipes for better durability and better particulate pickup with the same Clorox disinfecting power. Clean grease, soap scum and dirt and kill 99.9% of germs that can live on surfaces for up to 48 hours. Each wipe can kill 99.9% of viruses and bacteria including Human Coronavirus, Influenza A2 Virus, Staph, E. coli, MRSA, Salmonella, Strep and Kleb. Remove more than 99% of allergens like dander, dust mite and pollen with the ease of a wipe. These wipes are safe for use on a variety of hard and nonporous surfaces including finished hardwood, sealed granite and stainless steel. Clean, disinfect and deodorize your kitchen, bathroom, car, grocery cart or your workplace with this multi pack. This bleach free pack includes two canisters to keep anywhere dirt or germs may build up.
UPC: 044600015996
EAN: 0044600015996
---
Share this Product
---
More from this collection