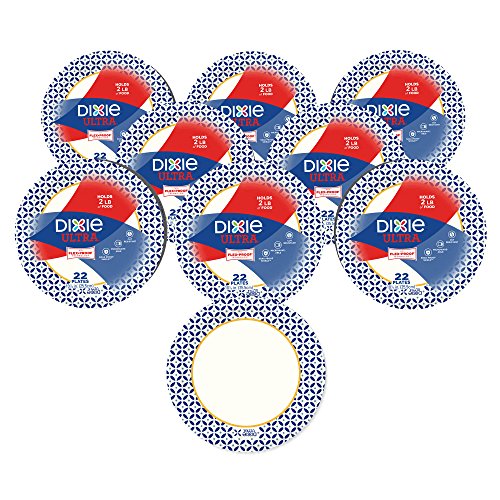 Dixie Ultra Heavy Duty Paper Plates, Dinner Size (10 1/16 Inch) Plates, 176 Count (8 Packs of 22 Plates); Designs May Vary
---
Brand: Dixie Ultra
Features:
176 dinner plates (10 1/6 inches), 8 packs of 22 plates; designs may vary
Microwavable, cut resistant, and coated in a Soak Proof Shield - perfect for dinner, entertaining and holiday meals
*Recyclable (facility must accept food-contaminated paper waste) and compostable in composting facilities (not at home)
Gluten free, BPA free, and Kosher certified
Subscribe and Save up to 15%; try our Dixie Ultra Moments for unique style and our Dixie To Go cups for on-the-go use
Publisher: Georgia Pacific LLC (Paper)
Release Date: 2016-09-01
Details: For nearly a century, Dixie has created products that make lives easier. From the first disposable paper cup to our strong, durable and stylish modern plates, the history of Dixie is one of bringing people together. Dixie Ultra paper plates and paper bowls will handle your heaviest meals, whether it is dinner, a holiday, or any other special occasion. With Dixie Ultra, you can focus on great conversation and keep coming back for seconds and thirds without need of a new plate! Every heavy duty, durable paper plate and paper bowl is microwavable, cut resistant and has a Soak Proof Shield, a proprietary coating that adds extra strength to every plate and bowl. All Dixie Ultra products (paper bowls and paper plates) manufactured in Georgia-Pacific facilities are kosher certified by the Orthodox Union.
UPC: 042000154161
EAN: 0042000154161
---
Share this Product