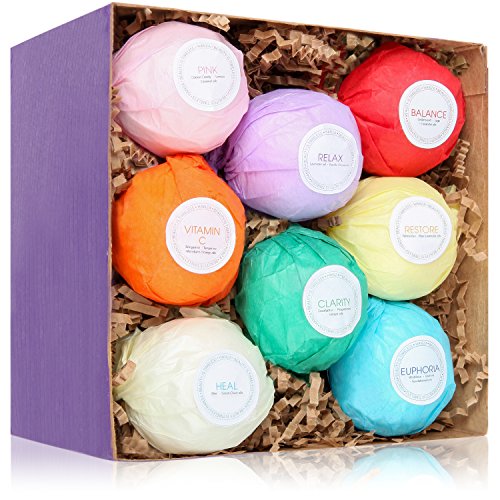 HanZá Bath Bombs - Gift Set Ideas - Gifts For Women, Mom, Girls, Teens, Her - Ultra Lush Spa Fizzies - Gift Ideas - Add to Bath Bubbles, Bath Beads, Bath Pearls & Flakes (2 oz, Light Colour)
---
Brand: HanZá
Color: Light Colour
Features:
PREMIUM QUALITY - MADE IN USA ONLY: Handmade, natural and organic. Comparable to Lush Bath Bombs in quality! (Ours are about the size of a golf-ball)
SUPERIOR VALUE: 8 (EIGHT) unique bath bombs (golf-ball size) in a box instead of the standard 6 and two times the aroma compared to other brands. BEST VALUE - LOW PRICE - ZERO COMPROMISE ON QUALITY . More fizzies means more choice. One for each day of the week and then some more. Make the deal even sweeter: SAVE 5% ON ENTIRE PURCHASE when you purchase 3 or more! Enter code HANZABB5 at checkout!
PERFECT GIFT IDEAS: Elegant gift set packaging makes these bath bombs look like jewels. Comes in Purple/Black/Cocoa box. Great gifts for women, moms, teen girls, kids and men - there's something for everyone. Superior quality coupled with exquisite presentation; it's bound to impress and is from the perfect of relaxation gift ideas for anyone. Great Mothers Day Gift
HEALTHY CHOICE: Contains ingredients that promote natural healing, such as Shea butter, Essential oils and Clays. Shea butter is a superior moisturizer with vitamin A that improves a number of skin conditions such as itchy and dry skin, wrinkles and blemishes. Unlike other brands, our bath bombs are free of artificial colouring and dyes and will not stain your skin nor your bath tub.
WHAT OUR CUSTOMER REVIEWS ARE SAYING: "Five stars hands down", Perfect for "me" time, "Bomb-tastic", "Smell heavenly", "Little bursts of happiness", "My kids love them", "Perfect gift set", "I am in love", "You have beat LUSH on these", "By far the best bath bombs I have tried", "I feel like on vacation in France", "Addictive beware..." and the list goes on and on....we URGE you to read for yourself.
Publisher: HanZá
Details: Bath Bombs by HanZá - A collection of 8 unique 2.1 oz (golf ball size) Bath Bombs made with natural ingredients. Enjoy Spa quality experience in the comfort of your home. A hot bath with these fizzies provides therapeutic value such as stress relief, relief of stiff joints and sore muscles, sinus and congestion relief, mood enhancement and is an excellent moisturizer for dry skin. Infused with Vitamin A rich Organic Shea Butter and Essential oils that are rich in antioxidants, our gentle formula keeps your skin healthy and supple while providing aromatherapy to balance your overall mood.

A great gift for mothers, women, bridal showers, teen girls, kids, and men. They make great mothers day gifts. This gift set is sure to impress. Our carefully formulated recipe ensures that it has the perfect balance of ingredients. You will not feel greasy after the bath and the smell is neither too soft nor too over-powering compared to other brands. Mixing and matching more than one of these bath bombs creates an amazing "new" smell experience altogether. Our bath bombs provide a more enjoyable experience compared to bath beads, tub teas and can also be combined with bath bubbles. A good alternative for a bubble bath. We do not use any artificial dyes in our bath products. They are Paraben-free and Cruelty-free. We care about the environment as much as we take your well-being seriously. So enjoy them worry-free.

Relax: Lavender and Vanilla
Heal: Aloe and Green Cloves
Restore: Palma Rosa and Blue Lavender
Pink: Cotton Candy, Lemon and Caramel
Balance: Sage, Cedar wood and Coriander
Vitamin C: Bergamot, Tangerine and Orange
Euphoria: Wild Rose, Jasmine and Sandalwood
Clarity: Eucalyptus, Ginger, Spearmint and Peppermint

THOUSANDS of Amazon Buyers Trust HanZá to Provide the Highest Quality. LIMITED QUANTITIES AVAILABLE. CLICK "ADD TO CART" NOW.
UPC: 641938710878
EAN: 0724190211991
---
Share this Product
---
More from this collection