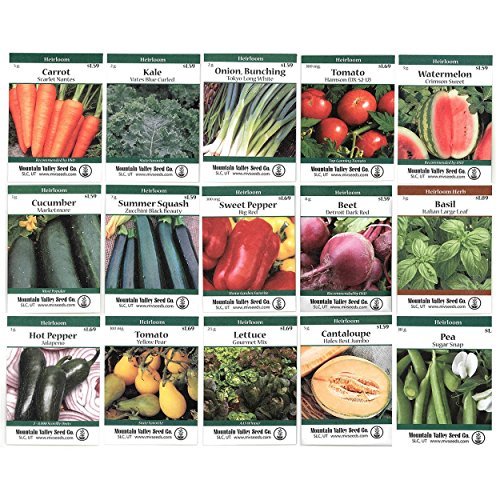 Heirloom Vegetable Garden Seed Collection – Assortment of 15 Non-GMO, Easy Grow, Gardening Seeds: Carrot, Onion, Tomato, Pea, More
---
Brand: Mountain Valley Seed Company
Features:
15 Heirloom Garden Seeds - Easy to grow varieties - Non-GMO - Open Pollinated - Growing tips on each pack
Current Crop Year Seeds - Premium Quality - High Germination Rates - Produce Seeds for Saving
Seeds Include: Carrots, Kale, Onion, 2 Species of Tomato, Watermelon, Cucumber
Squash, Sweet Peppers, Beets, Basil, Jalapenos, Lettuce, Cantaloupe & Pea
Minor same vegetable substitutions may apply depending on seed availability year to year
Publisher: Mountain Valley Seed Company
Details: This assortment of garden seeds takes the hassle out of planning a garden. Each professionally packaged pack of seeds is filled with plenty of high-germination, current crop year vegetable garden seeds. All seeds in this collection are non-gmo, open-pollinated and heirloom. They produce seeds in themselves which can be collected and saved for next year, making for a continuous supply of gardening seeds. The varieties in this collection have been specifically chosen for their ease of growing. Some minor substitutions may apply subject to availability of a particular species year to year.
UPC: 757281602712
EAN: 0757281602712
---
Share this Product