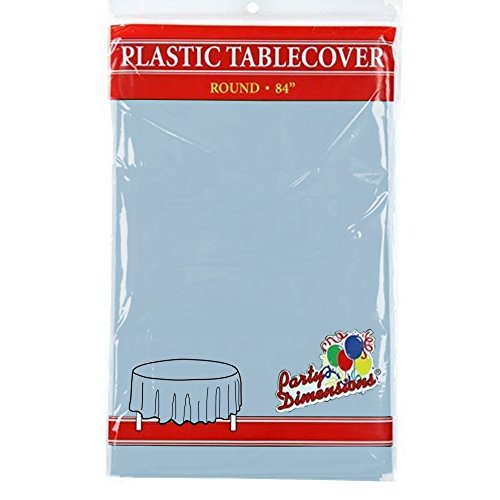 Light Blue Round Plastic Tablecloth - 4 Pack - Premium Quality Disposable Party Table Covers for Parties and Events - 84" - By Party Dimensions
---
Brand: Party Dimensions
Color: Light Blue
Features:
LET'S START THE PARTY: Our party table cloths are perfect for any affair from more formal catered events to outdoor BBQs! Keep them on hand whenever a cause for celebration arises!
CUSTOMIZED DESIGN: These plastic tablecloths measure 84 inches and they come in a variety of 24 colors and shades, including pink, blues, greens, gold, black, silver, white and more!
CLEAN UP IS A CINCH: Our tablecloths have your next event covered! Catch spills from food & beverages worry free. They're disposable so simply throw them away when you're done.
MULTI-USE TABLE COVERS: These handy table covers serve multiple purposes. Use them the traditional way or to line walls, sofas and more when working on projects around the home.
VALUE PACK: Always be prepared for when a celebration might arise and stock up with our value packs. Get these table covers in a 1 pack, 4 pack or 8 pack to suit your specific needs.
Publisher: Party Dimensions
Details: When you want to entertain in a pinch, quick & easy to use party accessories are a must to have on hand.
Get the party started in a flash with Party Dimensions Round Plastic Tablecovers!
About This Product:
- Available In 1 Pack, 4 Pack or 8 Pack
- Disposable
- Great For Picnics, Barbecues And Camping
- 84 Inch Round Table Cover
- Indoor or Outdoor
Available in 24 Colors:
- Black
- White
- Ivory
- Gold
- Silver
- Green
- Island Blue
- Light Blue
- Berry
- Lavender
- Lime Green
- Clear
- Medium Blue
- Hydrangea
- Sunshine Yellow
- Purple
- Yellow
- New Blue
- Pink
- Red
- Chestnut
- Hunter Green
- Hot Pink
- Orange
Always be prepared for a celebration with these handy tablecloths that will come in handy when you want to throw a party on a budget. Perfect for any occasion, you can use them to protect and decorate your tables at:
- Birthdays
- Graduation Parties
- Baby Showers
- Holiday Parties
- Barbecues & Cookouts
- And More!
Ideal for covering 6' round tables, this 84" plastic tablecloth is also a great way to avoid hours of clean up after messy arts and crafts or painting projects! The impenetrable fabric will protect surface areas from damage.
Whether you're throwing a small get together or a full-fledged party, we've got you covered - literally!
You never know when a cause for celebration will arise. That's why our tablecloths are a great accessory to have on hand so you're always party ready! Get a pack today and let Party Dimensions help you get the party started in style!
UPC: 688933369199
EAN: 0688933369199
---
Share this Product