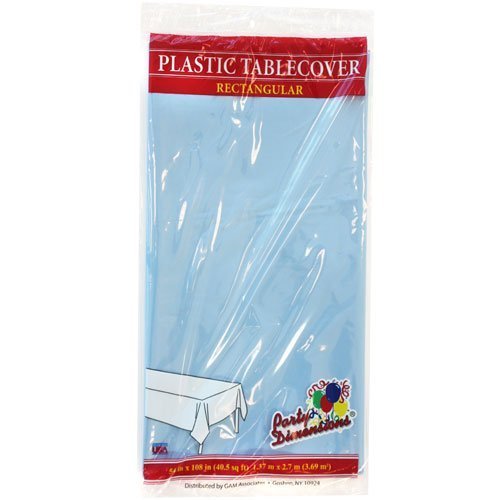 Plastic Party Tablecloths - Disposable, Rectangular Tablecovers - 4 Pack - Light Blue - By Party Dimensions
---
Brand: Party Dimensions
Color: Light Blue
Features:
EASY CLEAN UP: These tablecloths are great at picking up any messy spills from food, drinks, paint from arts and crafts sessions and more! What's better? They're completely disposable so no need to worry about clean up!
MULTIPLE PURPOSES: They're not just for parties! Having some friends over to paint your new home? Doing arts and crafts with your little ones? These tablecloths are a great way to line floors to catch messy spills!
GET THE PARTY STARTED: With our plastic party tablecloths you can get the party started in no time! Keep them on hand whenever a cause for celebration arises so you can liven up the atmosphere in a flash!
AVAILABLE IN DIFFERENT COLORS: Let your imagination run wild! These tablecloths come in a wide range of colors and styles to suit your particular mood so you can accommodate different party themes!
QUANTITY PACKAGES: Save money by choosing a larger sized package. With 4 packs and 8 packs to choose from, you're sure to have your tables covered for just about any event that comes your way!
Publisher: King Zak Industries, Inc.
Details: When you want to entertain in a pinch, quick & easy to use party accessories are a must to have on hand.

Get the party start in a flash with Party Dimensions Plastic Tablecovers!

About This Product:

- Dimensions: 54" X 108"

- Rectangle Tablecover

- Material: Plastic

- Disposable

- Available In Different Colors & Sizes

Keeping colorful, festive and conveniently disposable accessories on hand can make all the difference for those who want to throw a festive gathering on a budget. Our plastic party tablecloths let you do just and are perfect for just about any occasion. Use them to protect and decorate your tables at:

- Birthdays

- Weddings

- Graduation Parties

- Anniversaries

- Baby Showers

- Holiday Parties

- Barbecues & Cookouts

- Catered Affairs

- And More!

Ideal for covering buffet tables, this plastic tablecloth is also a great way to avoid hours of clean up after messy arts and crafts or painting projects! Available in a variety of colors and styles, you have a wide range of options to choose from to suit one that matches your specific needs!

Our tablecloths are available in:

- Medium Blue
- Clear
- Green
- Lavender
- Lime Green
- Hydrangea
- White
- Sunshine Yellow
- Black
- Light Blue
- Purple
- Yellow
- Red Gingham
- Blue Gingham
- Silver
- New Blue
- Island Blue
- Pink
- Gold
- Red
- Chestnut
- Ivory
- Hunter Green
- Berry
- Hot Pink
- Orange

Whether you're throwing a small get together or a full on shindig we've got you covered. Choose from two different sizes:

- 4 Pack
- 8 Pack

You never know when a cause for celebration will arise. That's why our tablecloths are a great accessory to have on hand so you're always party ready!
UPC: 717753335036
EAN: 0717753335036
---
Share this Product